Hey everyone, here's my list of resources and literature for getting prepped for the PSM II examination. I would be tremendously happy if you share yours 🙂
Sidenote: if you are "certificates are overvalued" type of person – I'd agree. This is especially true when it comes to CSM / PSM I – because that certification only mentions that you have been introduced to the basics. However, when it comes to PSM II you need to rely on your experience as a Scrum Master. No more "shu" (of shu-ha-ri), just your experience and daily understanding of agile values. 
By the time I write this post, there are 6793 PSM II holders.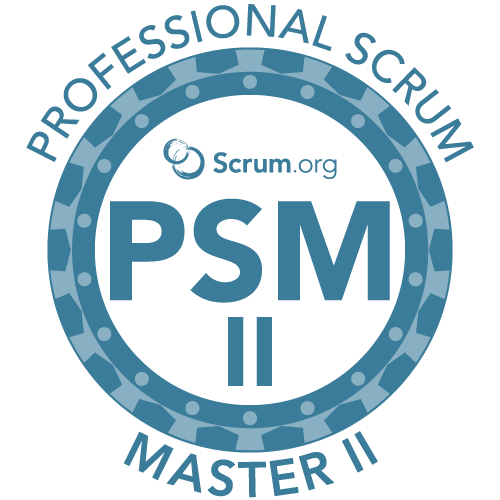 Preparation for PSM II
As Denis @ Agile Expat wrote in his blog in russian, it would be a great starting point to pass scrum.org open assessments at 100% before getting to PSM II exam:
PSPO open – because there are questions related to an understanding on how to coach PO and how to work with value. (might I say that you can easily pass PSPO exam in case you'll pass PSM II)
PSM I – since you MUST know everything in it by heart. Values, roles, events, artifacts. 
PAL-E – so that through coaching you could understand higher management, metrics, organizational maturity.
PSK open – foundations of working with the flow.
Nexus open – foundations of official scrum.org scaling solution, although not the most popular one.
Other tests should be treated with the grain of salt. The internets provide you with a wide variety of preparational test suites: some of them are more oriented for passing PMI-ACP (and are overall PMBoK-skewed); other ones should be avoided at all costs as they mutilate the very basic principles of scrum and sabotage your preparation – stay aware.
Coaching, books, training
Lyssa Adkins: Coaching Agile Teams – rather easy-to-read and universal cookbook for Scrum Master's stances of an agile coach, facilitator, teacher. It perfectly complements your personal experience.
There's a small section on conflicts, which I find useful (in case you don't want to dive deep into the science of conflicts). By the way, the book in my experience is greatly enhanced by ICAgile: ATF (Agile Team Facilitator), ICAgile ACC (Certified Agile Coaching) training courses.